I-AME
International Association for Music Education
presents
"Magic Music in Magic Prague"
Friday, July 12 – Sunday, July 21, 2024
Jan Deyl Conservatory of Music
Prague – Czech Republic
International participation of Top Artists
Solo Lessons – Chamber Music – Jazz Program
Unique Concerts of Participants & Lecturers
United in Music: Top Artists with
Future Professionals – Children – Amateur Musicians
United in Music
We offer a unique, condensed study opportunity. Our artists will engage with you to discuss and review your chosen repertoire, assisting you in overcoming technical challenges. They will provide guidance on the techniques of your instrument and share their thoughts on the musical phrasing of your selected pieces. With piano accompaniment, you will have the chance to prepare for a concert performance. Additionally, you will have the opportunity to collaborate with fellow students or teachers on interesting chamber music repertoire.
Playing with artists can be a truly transformative experience. You will learn from their expertise and gain insight into their creative process. You will also witness the passion and energy that goes into creating music. Collaborating with artists will broaden your appreciation for the power of teamwork, as you work together to create something unique and special. The collective energy of the group will inspire you to create something greater than the sum of its parts. Playing with artists can also challenge you to reach new heights, as you strive to achieve the same level of artistry as those you are playing with.
Music students and professionals:
Are you one of our future colleagues, preparing for a career as a professional musician? Are you already professional? Then you surely want to devote yourself to activities in the summer time, which can help you improve your artistic development.
We offer you a unique opportunity of short but plentiful study. Our artists will discuss and talk with you over your prepared repertory and help you to eliminate technical difficulties. They will guide you through the tricks of your instrument and will share with you their opinion on the musical phrasing of the selected music composition. You will have the opportunity to prepare yourself for the concert performance with piano accompaniment. Together with your colleagues of the same level or with your teachers, you'll study interesting chamber music repertory. That's why we will require a record and/or recommendation of your teacher for your participation in our program.
At the end of your study, you will receive a diploma, certifying your participation in Master Lessons of the I-AME MUSIC ACADEMY. We want to help you at the start of your artistic career.
Summer Music Camp for children:
We will be delighted if you join us at the Music Camp for Children in Prague. We look forward to meeting you and creating a nurturing and creative atmosphere for your musical journey.
We welcome children who are just starting to learn how to play their instruments, those who love to paint, talented musicians of all ages who have been pursuing their hobby for several years, and those who want to pursue music throughout their lives and think about a professional career or already study music and want to improve and consult with top artists.
The course fees include accommodation in student's dormitory, lunch, snacks for children, and dinner for children who are accommodated. The children will stay under qualified supervision – starting from takeover from the parents until their return, we know where they are and what they do.
Our camp will provide you with the opportunity to concentrate on your instrument and delve into the secrets of music. You will also be able to perform at concerts in the beautiful conservatory hall. On some of them, you'll hear from us, who will happily spend several wonderful summer days with you.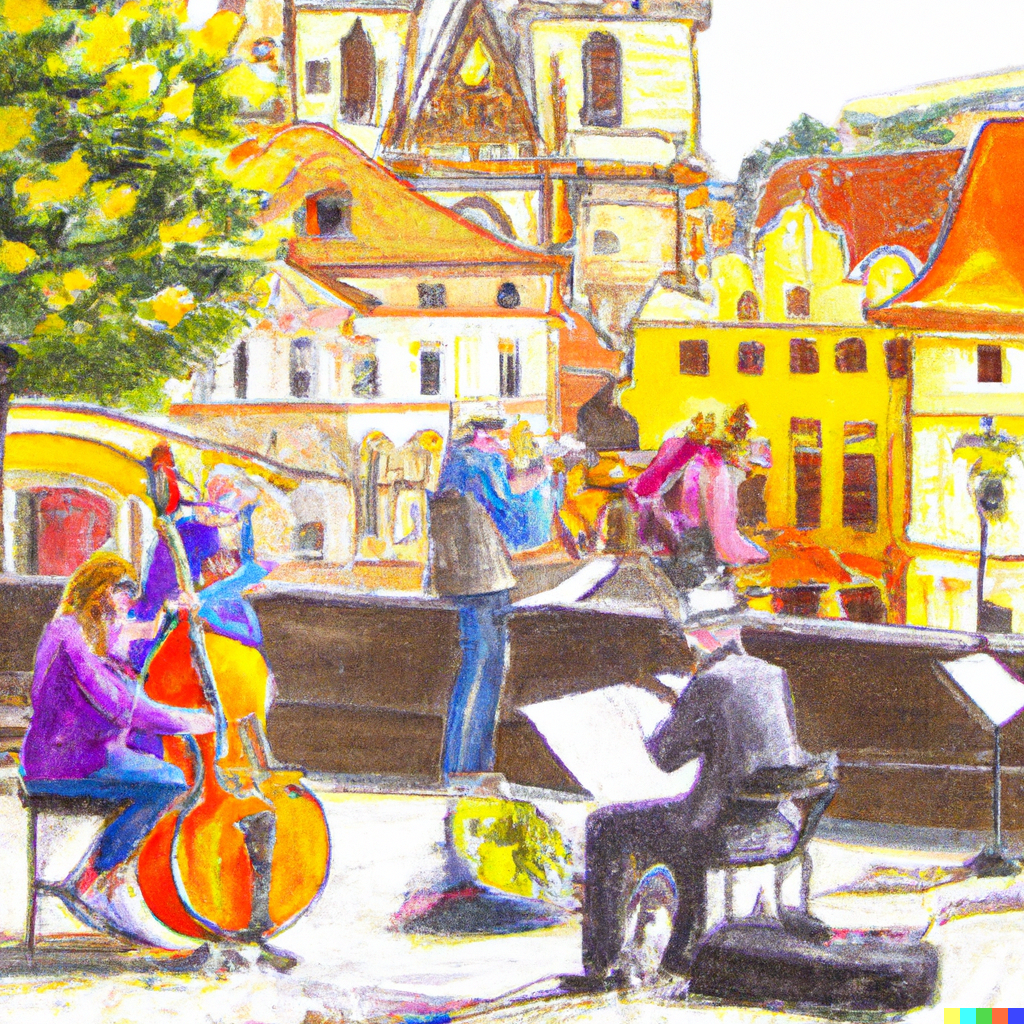 The jazz / Classical / Improvising Music Program:
The jazz / classical / improvising music program is independent courses for jazz players, students, and classical music students interested in jazz and impromptu music. For this program we will set up courses related to jazz, such as improvisation in chords, development of improvisational motives, application of jazz chords, mastery of jazz rhythms, and we will pick some practical jazz works to analyze with everyone playing.
For this program we will also set up a Jazz Band group. We will select some moderately difficult jazz standard pieces. Participants will get band rehearsal and solo training courses. We will divide the students into different small band groups for the training of the small band rehearsal classes, and reorganize and imitate different jazz works of different styles, as well as the playing methods of different musical instruments in the band. We will also conduct some targeted rehearsal courses for different musical instruments in the band's improvisational thinking, as well as development and processing. The Jazz Band rehearsal course will be jointly completed with students and teachers who come to participate in I-AME Master Classes.
First of all, we will prepare the Jazz Band artwork for the rehearsal. Together with performances and rehearsals, we will also set up training sessions with respect to the structure, sounds, and functions of the Jazz Band's various parts. We will also analyze and train the solo and accompaniment of different instruments in large band.
The program's main coordinators and leaders are Cooper Shuwei Yuan – Guitar, Alexander Christianov – Piano, Ondřej Štajnochr – Double Bass and Bass Guitar, Tristan Michael Willems – Winds, Jaemin Lee – Drums.
---
爵士/古典/即兴音乐节目:
爵士/古典/即兴音乐课程是为爵士演奏者、学生和对爵士和即兴音乐感兴趣的古典音乐学生开设的独立课程。在这个节目中,我们将开设与爵士相关的课程,如和弦的即兴创作、即兴动机的培养、爵士和弦的运用、爵士节奏的掌握等,并会挑选一些实用的爵士作品与大家一起演奏。
为了这个节目,我们还将成立一个爵士乐队。我们将选择一些中等难度的爵士乐标准曲目。参加者将参加乐队排练和独奏训练课程。我们将学生分成不同的小乐队组进行小乐队排练班的训练,重新组织和模仿不同风格的不同爵士作品,以及乐队中不同乐器的演奏方法。我们也会针对乐队即兴思维中的不同乐器进行一些有针对性的排练课程,以及开发和加工。爵士乐队排练课程将与参加I-AME大师班的学生和老师共同完成。
首先,我们将为排练准备爵士乐队的美术作品。在演出和排练的同时,我们还将开设有关爵士乐队各部分的结构、声音和功能的培训课程。我们还将分析和训练大乐队中不同乐器的独奏和伴奏。

Do you wish to devote yourself fully to your instrument and to enjoy one-hour lessons with your teacher every day of the week? Choose one instrument. You can choose with whom you would like to study and we will try to give you this opportunity. In your free time you may attend the lessons given by any teacher. You will also play in a chamber ensemble and you will perform with the prepared repertory at the concert, if your teacher suggest. We assume that you will spend your leisure time practicing and exercising on your instrument, to be able to improve in time for your next lesson.

Do you play two instruments and want to devote and pay attention to both of them? Decide, which of them is the main one, and which the second one – you'll have 30 minutes' lessons for each. The tuition will be slightly increased for this option. You'll play in a chamber ensemble and you'll perform at the concert. It will be needed you spend your free time by practicing, as we will require you to be prepared.

This is designed for all children of the music camp younger than 14 years. Solo lessons will be shortened to 45 minutes, to be able to manage the fine art and creative program. During the creative program they will enjoy a lot of fun and they will create together an absolutely unique concert performance.

"Everyone, when they are young, knows what their destiny is. Whoever you are, or whatever it is that you do, when you really want something, it's because that desire originated in the soul of the universe. It's your mission on earth. To realize one's destiny is a person's only real obligation. And, when you want something, all the universe conspires in helping you to achieve it."
Discount for repeated participation
DISCOUNT FOR ANOTHER
REGISTERED SIBLING
No accommodation requested
Price for the second instrument
Individual Lesson at the
I-AME Music Academy
70 € / lesson
What can you do if you do not have enough time to participate in the whole program but you are interested in individual lessons at least? You may ask for them independently. Sign up in advance. You can arrange the terms of your lessons through our office. Your entrance to the concerts is free, but you will not perform at concert.
I-AME YOUTH PROGRAM
€ 1 200
Program for children up to 14 years of age. The basic price of the Music Camp for 10 days stay, from July 12 to July 21 (accommodation possible till July 22), includes daily solo lessons chosen instrument / instruments, chamber ensemble or orchestra experience. Tutoring with piano for those, who will need it. Children can join fine art and / or creative program. They and their chaperons will visit concerts and they will have the own performance.
The lunches, and snacks (for children) are included in price. For accommodated children breakfasts and dinners (on request). For small children, you should provide supervision (passive price).
PASSIVE PARTICIPATION
€ 850
被动的参与
Enjoy Magic Prague when you accompany your child (or partner). Passive participants can attend solo and group lessons, concerts and other organized events. The price includes accommodation with breakfast in the dormitory, lunches and joint events from Friday 12 July to Sunday 21 July 2024 (accommodation is possible until 22 July).
---
陪伴孩子或伴侣的被动参与。参与者可以参加独奏和小组课程,以及音乐会。价格还包括住宿、午餐和联合活动,从7月7日星期五开始,到7月16日星期日结束(住宿至7月17日)。
I-AME MUSIC ACADEMY or
Program for Jazz Musicians
€ 1 300
我的音乐学院
爵士音乐家计划
Music Academy for participants regardless of age who want to get the most out of the Academy, those who want to devote themselves to music, prepare for individual lessons and make the most possible progress. During the 10 days, starting on Friday, July 12 and finishing on Sunday, July 21, 2024 (accommodation till July 22), you will receive individual lessons, common masterclass and you will participate in playing in some chamber ensembles. We will provide you the piano tutoring. You can perform at concert with the prepared compositions. You will gain experience playing in the orchestra.
---
音乐学院的参与者,无论年龄,谁想要从学院得到最大的,那些想要全身心投入到音乐,准备个人课程,并取得最大可能的进步。从2024年7月7日(周五)开始,到7月16日(周日)结束,为期10天(住宿至7月17日),您将接受个人课程,共同的大师班,并参加一些室内乐合奏。我们会为你提供钢琴辅导。你可以用准备好的乐曲在音乐会上表演。
I-AME program for jazz musicians. You will have individual and group lessons, During individual lessons and while playing in a Big Band, you will understand and try out the basic principles of jazz improvisation under the guidance of experts, such as connecting and applying chords, types of improvisational motifs and their development, mastering jazz rhythms. Tuition include accommodation with breakfasts in student's dormitory.
---
I-AME爵士音乐家项目。在个人课程和在大乐队演奏的过程中,您将在专家的指导下了解和尝试爵士即兴创作的基本原则,如和弦的连接和应用,即兴母题的类型及其发展,掌握爵士节奏。